It's been an interesting few days; I have been working in Barcelona for CGTN on the story that has dominated the headlines since Catalonia attempted to vote on independence. On Sunday, when we arrived there was a rally of over 300,000 people marching around waving flags – the people had spoken – they weren't that happy with the idea of independence.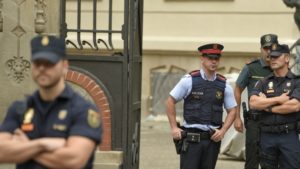 So, what would happen on Monday? Would many of Catalonia's  200,000 Civil servants refuse to follow direct rule from Madrid or would  they return to work?
Most did and the main protagonist Catalonia ousted President Mr Puigdemont and several members of his deposed Cabinet fled to Belgium, apparently only hours before Spain's Attorney General asked for charges of rebellion, sedition and misuse of public funds to be brought against them.
The crime of rebellion carries a maximum sentence of 30 years imprisonment, while sedition carries a 15-year penalty. Misuse of public funds is punishable with a six-year jail term. So, perhaps you can see why he did a runner. It was another real twist in the story that no one foresaw.  
We did about a dozen lives into various programmes and cut a couple of packages. Interesting times for Spain!