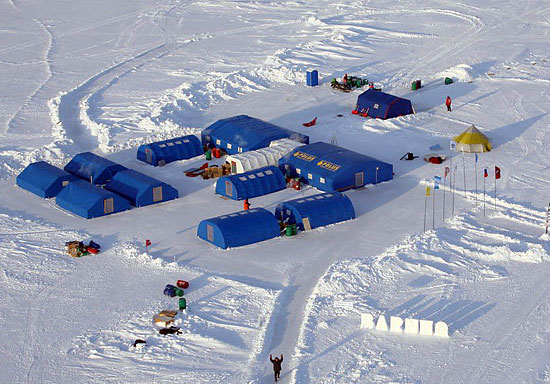 Later this week I'll be heading up to The Barneo Ice Camp at the geographic North Pole. It's one of the most remote scientific research stations on the planet.
It will be my nineth time that I will have visited this camp; nothing comes close to this surreal experience. I am extremely lucky and very privileged to cover the 'World's Coolest Marathon' – The North Pole Marathon over the last decade.
This year we have been delayed by a week, actually all Arctic travel to the region has been delayed; the Russian's are in charge, so perhaps we will know more on arrival.
Our Russki friends call their camp on the sea-ice, only 1° away from the North Pole, "Barneo" because it's not Borneo… that's a Russian sense of humour for you!
They may not share our wit, but their inventiveness, persistence and just good old fashioned guts in setting up the camp on the sea ice is second to none.
Barneo is a private temporary camp, each year it is assembled from scratch; helicopters take off from Siberia in search for a good, stable location. The frozen landscape at the Pole is constantly moving and the depth of the ice from one year to the next is unpredictable. They refuel on an island called Sredny and then head towards the North Pole. Once a suitable site is found on the sea ice, paratroopers are airdropped to set up a basic camp, they transmit their coordinates back to HQ , where an Ilyushin Il-76 cargo plane chocked-full of fuel and supplies will follow. They fly in 50 tonnes of equipment – including a tractor with a bull-dozer for smoothing the ice to make a runway. The camp is only operational for a matter of a few weeks each year becoming the gateway for North Pole expeditions and of course the North Pole Marathon.
Finding the perfect ice-floe for the camp is challenging. The floe must be oval-shaped, detached from the surrounding sea ice and must be at least 2km's long a runway can be built. According to sources this year, the ice is pretty solid from 1.60 to 1.82 metres, which is enough to land the plane and the 2018 North Pole Marathon competitors.
 I'll let you know how we crack on next time.