It was my fault entirely, I asked Richard Turkowitsch the rules of Quidditch (he's the PR person for Team Austria and one of the commentators) – I knew I had made a mistake when he hadn't drawn breath for ten minutes. But his passion and panache for the sport was astounding.
I had had a nightmare of a journey getting to Florence, flying Vueling (avoid them if you can) were really awful – I won't go into details as it's it would take far too long, but suffice to say I got to the stunning Italian city a day late.
I didn't know much about the sport of Quidditch. I knew it was adapted from the Harry Potter novels around twelve years ago but I was impressed how many countries were taking part in this World Cup – 29-teams from as far away as Iceland, Malaysia, South Korea, Hong Kong and Vietnam to name few. The first World Cup was held in Oxford in England back in 2012, when the United States took top honours, they won again in 2014 but the Aussies caught them off guard to snatch victory two years ago in Frankfurt.
This year's tournament was the biggest in the sports short history with over 800 players registered to compete.
For those who don't know – it's like a cross between rugby and dodgeball and before you ask…..they don't fly! The broom-sticks are replaced with a plastic tube which is shoved between their legs when they are in play. I know, I know….…it does looks odd but it is fast paced and full contact. Two teams of seven players compete, using four balls: three 'bludgers' used to momentarily knock opponents out of the contest and a 'quaffle' which a player can put through one of six ring-shaped goals to score.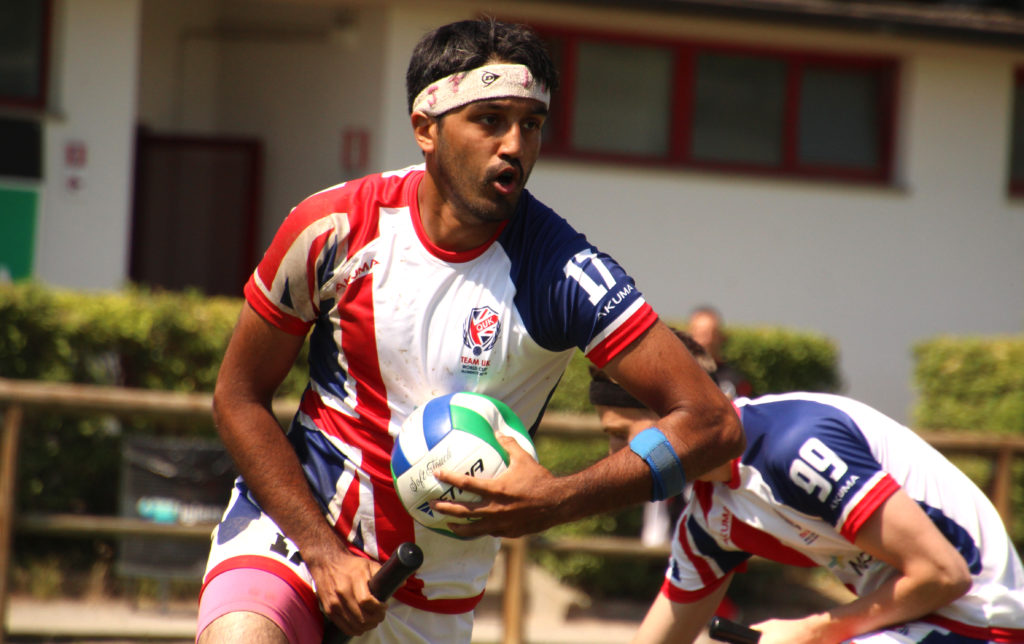 Matches, well they last anywhere from 20 minutes to an hour. They are finished when the golden snitch – a tennis ball stuffed in a stocking worn by an independent player – is caught by a 'seeker'.
The snitch comes on after 18-minutes of play. Each goal is awarded ten points and for the team that grabs the snitch, 30 points are awarded. There are tons of other rules which I won't bore you with – I can always send you in the direction of Richard Turkowitsch if you want to find out more!
Each side must satisfy the gender rule where only a maximum of four players from either sex is allowed on the field at any one time.
In the early rounds it was favourites USA and Australia who set the early pace, in the groups stages. The games were played in sweltering temperatures of between 33-35 degrees; each game which took its toll on the players and fans alike.
The in first semi-finals, "USA" beat "Team UK" to book their passage to their fourth (4th) final in a row. Underdogs Belgium, out played Turkey to gain a place in their first ever World Cup final.
The final between the USA and Belgium produced some quality Quidditch for the crowd of over 1000 people who mostly wanted Belgium to win – everyone loves the underdog don't they!
Team USA scored some early goals and never really looked like losing the final. It was left to their 'seeker' Harry Greenhouse to claim victory by grabbing the 'snitch' within minutes of it coming on. The final score was 120 for the USA against 70 for Belgium.
In a sports world full of corporate sponsorship, diving football players etc it's rather refreshing to see a bunch of adults running around with sticks between their legs having so much fun. Who needs fantasy football?
Still photos courtesy of Ajantha Abey