2019 WSA (World Sleddog Association) Dryland World Championships.
After days of heavy rain prior to the event, it was with some trepidation that I headed to the Firle Place Country Estate that was hosting this prestigious event.
According to forecasts the better day for filming looked to be the Saturday, but as usual, the weather forecast got it wrong and more rain descended on the already saturated grounds. The hundreds of dog sled teams in attendance did not seem too deterred by the wet and muddy conditions.
A variety of group classes raced from 8, 6, 4 and 2 dog teams to the solo classes with competitors on mountain bikes (Bikejor) or running behind their dog (Cani-cross). The mud made for very slippery and challenging conditions for all those competing.
The championships are highly competitive, with entrants travelling to the event from across Europe but the safety and welfare of the dogs and the drivers are paramount. Despite the kudos of a World Championship, there was no prize money and vets and animal welfare charities were in attendance to ensure that the welfare of the dogs was centre stage.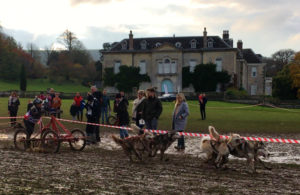 Visually, the 8 dog teams looked the most impressive with the 'driver' or musher, as they are often known, perched on a Rigg. It's not easy to communicate and steer a large team; something that requires great skill.
Despite the unfavourable conditions many spectators squelched through the mud to enjoy the unfolding spectacle. Many also got the chance to meet the teams and their dogs and amongst the breeds represented were Siberian Huskies, Alaskan Malamute and Greenland dogs. Whatever the breed one thing was abundantly clear, the dogs loved to race and owners demonstrated that the love of their dogs was central to being involved in this sport.
If you've got a fondness for the unusual, check out and follow our Blog, there is something for everyone!